Along with volunteering, fundraising allows Stop Hunger to help local communities in need with its NGO partners.
Examples of activities:
Donors evenings in the United States, in Canada, in France and in the United Kingdom,
Payroll giving,
Emergency Funds.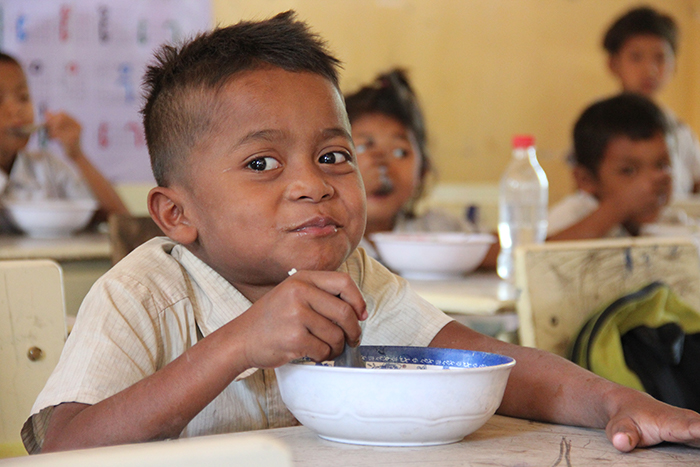 ​© WFP / Ratanak LENG
Donor Evenings
Donor evenings are held once a year in France, the U.S., the U.K., Canada, and soon in Brazil. These dinners enable a local appeal to the generosity of Sodexo's unique ecosystem: they represent 50% of the funds collected. They are also a wonderful way to recognize those who fight hard against hunger, while exchanging stories and ideas.
Some of the international companies who regularly support Stop Hunger are: ADP- Automatic Data Processing, Bunzl Distribution, Britvic Soft Drinks, Bank of America Merrill Lynch, Daycoval Bank, Deloitte, Ecolab, Electrolux, Flash Courier, Groupe Pomona, Kellogg's, Oliver Wyman, OnePoint-Weave, Pro à Pro, Sysco Corporation, The Coca-Cola Company...
Payroll giving
This is a program that allows Sodexo employees to easily contribute a modest amount of their salary to Stop Hunger. In many countries, these donations may be exempt from taxation. Brazil, Colombia, the United States and the United Kingdom have implemented this solution. In the United States, over 10% of management participates in this program, donating over US$ 5 million to Stop Hunger since 1996.
The emergency fund
An emergency fund of more than 400 000 USD was created in 2014, enabling rapid mobilization: because time is a decisive factor in situations of natural, health and humanitarian disasters. During the unprecedented Covid-19 health crisis, this fund made it possible to strengthen the exceptional support to the most socially and economically affected countries, by immediately and effectively providing food assistance to millions of beneficiaries of 57 food banks, NGOs and associations.