Stop Hunger supports Ruramiso, WIA54 award winner in 2020. Native to Zimbabwe, this 35-year-old young woman is the example of a new generation of entrepreneurs who aim to modernize traditional family farming: making it productive and profitable – improving local income, and increasing its local and international business opportunities, to feed an ever-growing population.
Ruramiso's other mission is to empower women who grow 70% of Africa's food but own only 20% of the land.
Ruramiso's farm is in Marondera, 70 km south of the capital of Zimbabwe, in Southern Africa. Here, snap peas, sugar beans, corn, whole brown rice, sorghum, millet, gum trees are cultivated, and cows and pigs are raised.
In parallel, Ruramiso created Mnandi Africa, an organization that trains and pools resources and equipment for small producers to access knowledge, materials, technologies, seeds, prices, local and export markets as larger operators. The goal is to equip and empower 60,000 women who make up most of these farmers.
« Keep calm, African women will feed the world »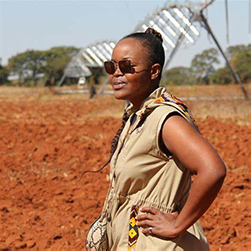 Alongside, two other women farmers, Slyvia Tetteh in Ghana and Sussana Phiri in Zambia, she launched « Women Who Farm Africa », an information program with workshops and videos focusing on farming, agricultural sciences and communication, shared on three major social networks. Their drive to empower future women farmers is largely inspired by the experience of their mothers who were farmers and goes far beyond simple gender solidarity. "Women who farm are champions of food security," says Ruramiso.
"There are more women farmers, but men control almost all aspects of agriculture. Men own the land, they have more funding, better access to markets and access to the tools that make farming efficient" she said. "Despite all of this, I tell women that we can and must work alongside men. Together, with a level playing field, we can do much more. We can change the image of our continent; we can feed the world. "
Getting to know Ruramiso better
After her first professional experience in one of the main agricultural equipment companies in the United Kingdom and graduating in management and farm business management (West England and Iowa), Ruramiso returned to Zimbabwe in 2010. It was around this time that she realized that the use of equipment, agro-technology and connectivity could transform agriculture. Following this, she inherited her parents' farm, began to mechanize the crops and develop good agricultural techniques. In 2014, she was elected President of the National Union of Young Farmers and become the first woman from Zimbabwe to hold this position. A member of the Global Farmer Network and the Zimbabwe Farmers Union, Ruramiso won the Kleckner award in 2020, as well as was also recognized as one of Africa's top 1000 entrepreneurs and elected WIA54 Revelation for the Agriculture sector.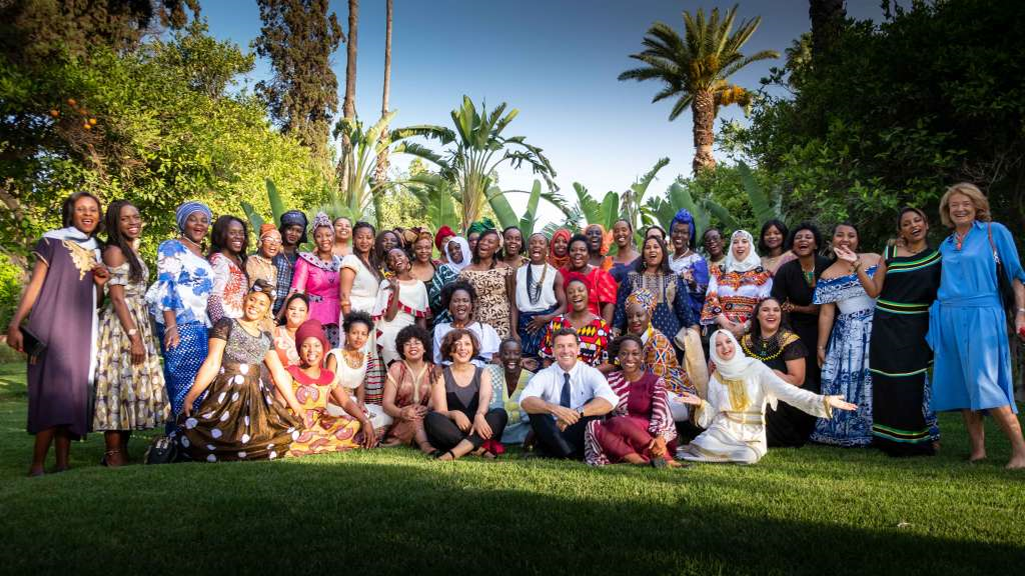 For 4 years, Women In Africa Initiative has supported, accompanied and contributed to the promotion of African women entrepreneurs and the future of the continent. Its missions are to network African and international women leaders and to contribute to their training, in the service of an innovative and inclusive Africa. This year, 63 women from 54 African countries were sponsored through the WIA54 program and thus provided access to the network. Stop Hunger has supported WIA since its creation, including the Agriculture and Agri-Food Award. In 2020, there were 157 finalists in eight categories, the agriculture revelation was awarded to Ruramiso Mashumba and her organization Mnandi Africa, Zimbabwe, which provides services to women farmers, from pre-planting to harvest, in order to '' increase their income and ensure food for local populations".