Volunteering is at the heart of what we do. Congratulations to Monika, Tom, Paul, Kandice and Sévrine - our 2023 Stop Hunger Volunteer Awardees – in recognition of their engagement and commitment.
Let's discover our everyday heroes for a hunger-free world!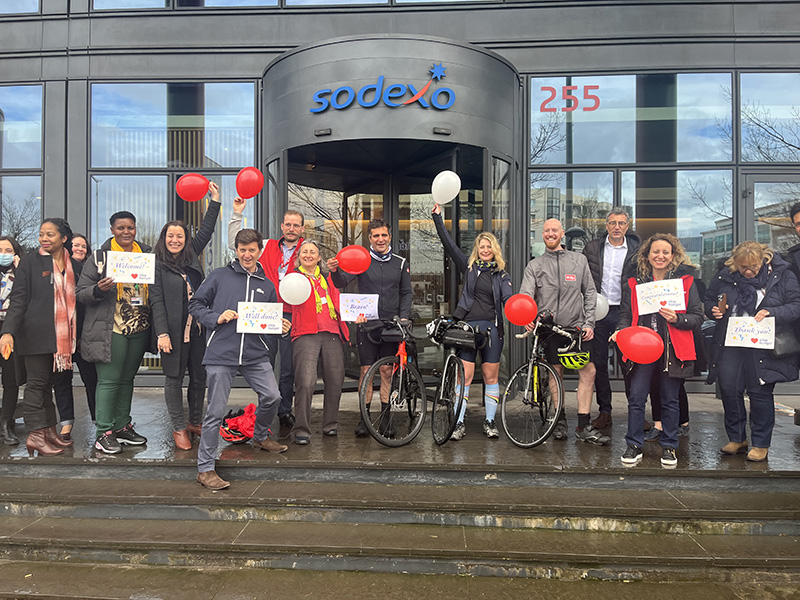 Monika Bentkowska
Member of the COEU leadership team, Monika was part of the team that cycled 600km from Rotterdam to Paris to raise funds for Stop Hunger, as part of the Servathon. At the start of the conflict in Ukraine, she coordinated aid to Ukrainian refugees to Poland. Monika has also put in place measures to respond to the request from some employees who wanted to welcome families of refugees or help them find accommodation, work or access to meals. This made it possible to create a movement of solidarity in Poland, increasing the number of volunteers from 40 to 114 in one year and helping 31,000 beneficiaries.
Kandice Kalwoda
Kandice is Canadian and joined Sodexo 4 years ago. She has always been there for all the volunteering actions at head office: the Servathon, food collections, Stop Hunger dinner…. Kandice is a great volunteer, always lending a hand during duty hours and organizing yoga sessions to collect funds. "Stop Hunger is what made me proud to work at Sodexo when I joined. I like the initiative and the fact that we can work while making a difference and collaborating with our colleagues".
Tom Pipa and Paul Robert
Tom and Paul took part in a YEAH! Mission in Moldova. The objective of their mission was to help set up solidarity kitchens in Moldova. They visited 4 different sites and supported the upgrading of these spaces. Thanks to their expertise in safety and hygiene, they were able to support the World Food Programme (WFP) teams and accompanied them by giving them advice on design and equipment.
Sévrine Bethy
Sévrine participated in a YEAH mission as part of the "Fresh project" of the WFP (World Food Programme). The objective of this project was to help update training tools and food safety standards for supply chain fresh produce. Over the past year, Sévrine has accompanied this project remotely by devoting a few hours a month. And to finish the project, she was able to test the audit tool developed in the field in Lebanon.
Roxana Dovleac, Nick Graham and Vincent Josse
Roxana, Nick and Vincent cycled from London to Paris, arriving just in time for the Stop Hunger Dinner! Their 670km journey, via Belgium, which took 4 days, took them to see clients, suppliers and colleagues and they raised 13,500€ for Stop Hunger! We were so happy to have you with us for the dinner to celebrate the end of your journey.